Tuning the Air is a unique performance project of Seattle Circle employing a live 'surround sound' configuration with musicians encircling the audience. Rather than touring in pursuit of an audience, Seattle Circle is bringing the concept of the location based performance team to Seattle. Join us for another year of music with the audience at the heart of every performance.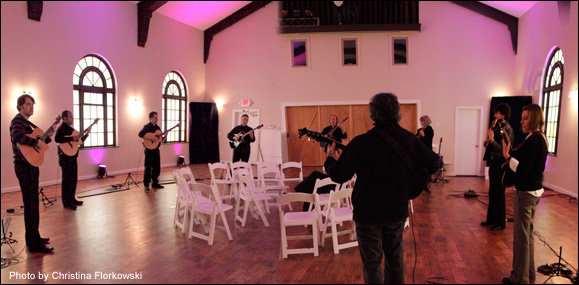 "Monday nights are filled with some of the most amazing guitar sounds that resonate with the essence of Seattle's diverse music scene, taking performance art to the people in a unique and wholly uplifting way."
– Seattle Post-Intelligencer
"Within the opening moments of Tuning the Air, it's clear that the group has turned traditional guitar performance on its head."
– Seattle Magazine
"A unique live experience that transports you to a place where music is the geography."
– Seattleest.com
"Strums, chords, and melodies cascaded around me; it was like sitting inside a giant zither. Wow!"
– The Stranger
"Commitment on this level is rare. My respect & deep gratitude to the Team for their work."
– Robert Fripp
Seattle Circle is a not-for-profit organization dedicated to fostering music and facilitating practical music education via workshops, courses, private instruction and performance events. All donations to Seattle Circle are tax deductible, not to mention greatly appreciated.